Time had passed since Yuurei had been at his own execution. He made it out alive, and that was all that he cared about. His life was in his hand once again, but of course, it wasn't in the circumstance that he thought he would have it in. Still, there were some good perks that came with this job, and one of them was information. The swordsman had learned that there was an interesting person that was around the Greenie Pass. There were rumors of the name, and when Yuurei heard of the name Iron Drayden, he decided that it was best to look into him. He had heard about what he had been doing and that he had gotten a large number of people to follow him. This intrigued Yuurei because he wanted someone with that caliber to serve under him. This man and his follower could prove useful to him in the future.
He didn't know where he was located, but he did know what he could do. He knew that the marines nearby would have more information about this man, so he had made his way towards the nearest marine outpost. Yuurei's walk wouldn't take long as he had been near the area in the first place. He could see that there were two marines guarding the entrance to the outpost, and when they looked at him they didn't know who he was at first, but when he got closer they were no longer on guard.
"Yuurei, what brings you here?"
The marine asked him.
" I'm here to talk to the guy in charge here. I got a question for him, and I kind of need information from him. So, excuse me while I enter this place and keep guard ya guys doing a good job." He said as he had his hands crossed over each other.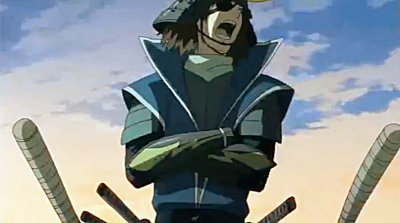 They heard the tone of his voice and knew that he didn't care that they were in his way. They weren't going to stop him either, as Yuurei walked into the outpost. He looked at all the marines that were gathered around and chatting together, there were others who were training, which was the best thing they could do. A lot of them had looked at him, but he didn't care. He could only smile at them, but then he stopped walking. His eyes looked at a rack of swords. His eyes sparkled and he jogged over to them before he came to a stop. He was excited to see the swords, but when he got closer he noticed that the materials that made them were not all that.
"I thought they were going to be awesome. What a fucking disappointment. I should have known better. They wouldn't have good quality swords out in the racks." He said as he shifted his body and continued his walk towards the middle tent.
When he got to the tent there were two more marines on their post there. Yuurei looked at them both and nodded as they were nervous with his arrival. They heard about him, and they could feel the strength that was coming from him. Yuurei would walk straight into the tent without hesitation and when he walked in he would see a chest in the far right and a table in the middle. There were was also a bed next to the chest, and three men surrounding the table. They stopped talking and looked over to Yuurei trying to figure out why he was here.
30/30 Haki Remaining
Equipment: