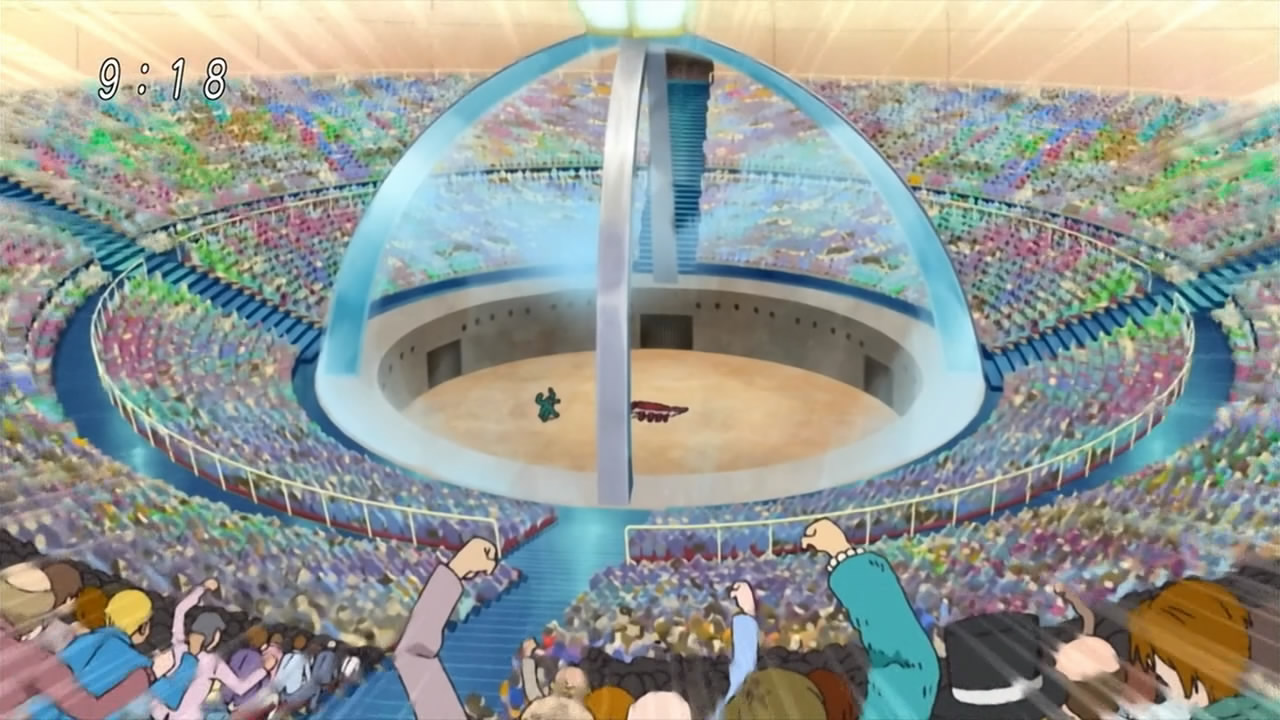 This thread is under 48 hour posting conditions. If you can't make a round on time, state in advance, however, without valid reason, excuses will not be allowed.
"Should I be relieved or worried that your present, Soillin?" one of the Five Hands to the Queen inquired, positioned within the heart of the crowd, shaded in a Black Cloak.  
Chugging away at his gigantic gourd of Sake, the man simply wiped his mouth clean of the wasted liquid, "Relax. The Big Wigs just sent me here to make sure everyone whose suppose to die... dies." Soillin stated.
"Though, judging by the security around here... I don't see why I'm needed. Especially after we've gifted you with those
'little buggers'
" Soillin concluded, continuing to drink his Sake.
The Hand neither confirmed nor denied the man's statement, or bought into his jest, she'd simply grin and continue to eat her popcorn purchased from the concession stand. However, Soillin knew this woman all too well. In the eyes of Lulusia, she'd be the newest Hand but for the last four years with his service in the Rebel Army, she'd be known to Soillin simply as 'Famine'. No kind of disguise could've changed that.
The duo's position was about one hundred and fifty meters away from the ringside seats that lined the stone wall that encased the coliseum's audience section, elevated several hundred feet off the ground to about the size of an average Giant(50ft).  
NPC - Royal Warriors of The Sea - Soillin:

Name:

Soillin Yokona

Alias/Epithet:

The Crimson General

Race:

Human

Gender:

Male

Age:

67

General Appearance:

With his dark crimson armor and traditional look Soiilin could be considered old fashioned. He has a strong old-wise expression, but to many he could be seen as a living demon. His long nose and furrowed eyebrows could mislead anyone to think he was once a demon from the nether realm. But he doesn't exactly dismiss the idea of looking like a true demon, he prefers an attire that shows power and to strike fear into his opponents. Soiilin doesn't want to dress up anything else other than his outfit that has been forged through his pride over the many years.

Soiilin Yokona Image:

Height:

6'5 ft

Weight:

90 kg

Crew Tattoo Placement:

At his chest underneath his armor.

Personality Overview:

As clearly mentioned he is a man that believes things should've stayed the same. He has a determined tone, somewhat a loud mouth, but he also has a strong gesture. He sits always straight, makes any handshake into a powergrip, and he always sleep at a specific time on the evening. He is a man that truly takes rules of life serious. But past his rules he has a low moral for lives. He was a former General from Wano Kingdom, a mighty powerful one that took part in many wars against neighbour kingdoms, through these many events he was shapen up into a true veteran of war. With his vast superior knowledge in battlefields he was considered a true testament in history of wars. However Wano changed their ways and didn't follow what he believed in. This led to him getting dismissed from his country, now he is seen as a War Criminal and a ferocious individual.

Morality Alignment

Chaotic Neutral

Occupation:

Former General from Wano Kingdom.

Faction:

Pirate

Starting Rank:

Shichibukai

Meito:

Glaive

Devil Fruit: Ketsu Ketsu no Mi/ Blood Blood FruitStrenght & Power:

6

Durability & Endurance:

4

Agility & Speed:

7

Perception:

4

Spirit & Willpower:

5

Haki:

Kenbunshoku/Observation Intermediate
Revolutionary Chief - Famine :

@Risaka

wrote:

Name:

Alexadnria Knox

Alias/Epithet:

Miss Famine

Race:

Human

Gender:

Male

Age:

22

General Appearance:

She has a soft violet grey hair colour with a cobalt bobhat. Her entire attire is mostly in cold colours, but her jacket is dark with a white shirt underneath. She wears a tight shorts underneath her blue skirt.Her eyes are magenta coloured with her skin being milky, giving a nice contrast between hot and cold. She wields a black umbrella that easily covers half of her side, it's fairly thick and always folded.

Alexandria Image:

Height:

5'4 ft

Weight:

64 kg

Crew Tattoo Placement:

Revolutionary Army logo on her palm.

Personality Overview:

Miss Famine is one of the younger Chiefs in the Revolutionary Army. Her view on the world is rather simple, everyone has the freedom and no one shall be on the top without work. As a Chief in the Revolutionary Army she intends to bring down the WG for a better future, she was afterall a victim to the nobles, a slave for 10 whole years until saved by the Commander in the midst of South Blue. despite the harsh past she is usually the one smiling among the Chiefs and always give a cheery yet teasful attitude towards most things, even individuals that has a large intention to kill her.

Morality Alignment

Neutral Good

Occupation:

Navigator

Faction:

Revolutionary

Starting Rank:

Revolutionary Chief

Meito:

None

Devil Fruit:

Rozu Rozu no Mi / Rose Rose Fruit

Abilities/Perks/Bonuses:

As every Logia fruit Rose Rose Fruit gives the user the power of rose petal manipulation. While the user indeed can vaporize into pure petals it is unlike the common kind of Logias. The petals aren't fabricated and can only be gained from already existing roses. So the user has a maximum amount of petals in their body. But another unique trait to this Logia is that each petal can keep the density of the original form. So if the user coats their hand into Armament Haki the petals coming from that hand will be regarded as Armament sturdy. That also goes with how endurant the user is to begin with. But even with the saiud endurance the petals are just as fragile to fire elements.

Strenght & Power:

5

Durability & Endurance:

5

Agility & Speed:

6

Perception:

4

Spirit & Willpower:

7

Haki:

Kenbunshoku/Observation Intermidate and Busoshoku/Armament Advanced
---
Hovering around the coliseum from the skies where pelican's carrying Camera Den Den's abreast, broadcasting the entire execution the world. Whether it be Baltigo, Alabasta, or Water 7, anyone who'd be in a major street or even in the smallest of towns with an transponder would've have clear view of the facility which was hoisted on crater of stone, with the only access on or off, being the single emerald ordained drawbridge.
Though, those who'd know about the building's composition knew of another exit, one that'd exist in the chambers underground passageway, and this area was guarded by none of other than the Cipher Pol. It'd be part of the coliseum's dungeon that didn't rise up from the depths with the other prisoners cages.
"First the auction on Baltigo... and now this shit-show. I get that your grooming me to handle more responsibility... but I would've been enough to handle this mission, sir." Blanc concluded.
"Indeed. However, too many players are in motion. If all goes as planned, we'll be simply wasting a summer day. There's only two ways off this cursed rock... The door behind us... and the Emerald Bridge. If the rebels want out of this one... They'll have to come with a miracle. Especially with who we've got on the roster to kill today." Kuro concluded.  
Kuro:

Name:

Hendricks Kuro

Alias/Epithet:

Chief Kuro

Race:

Human

Gender:

Male

Age:

55

General Appearance:

Spoiler:

Height:

12'2"

Weight:

620 lbs

Crew Tattoo Placement:

N/A

Personality Overview:

Cold and callous, Chief Kuro has been the acting head of CP9 for the past three decades. As such, he has developed a firm and unwavering belief in absolute justice, as well as an undying loyalty to the world government. To this end, all those who oppose it are not fit to live; criminals, pirates, revolutionaries, even traitorous or ill-behaved marines can and have been made victims by his hand. Despite this cruelty to his enemies, his compassion to his comrades is perhaps even greater, often calling those in his division of Ciper Pol his 'family'.

Morality Alignment

Lawful Evil

Occupation:

Pugilist/Doctor

Faction:

Cipher Pol 9

Rank:

Chief

History:

Once having worked his way up to the rank of Vice-Admiral at the age of 25, Kuro opted to retire his public facing career path, instead opting to work in a realm just beyond the standard law, as a Cipher Pol Chief. Top marine brass had no qualms when it came to Kuro's sudden departure, even endorsing him for the immediate position, as Kuro had a reputation for causing too many problems with public relations.

Face Claim:

N/A

Weapon:

N/A

Haki:

Master

Stats:

S&P - 5

D&E - 8

A&S - 4

P - 6

S&W - 8
Blanc:

Name:

Levin Vice

Alias/Epithet:

Blanc

Race:

Human

Gender:

Male

Age:

22

General Appearance:

Spoiler:

Height:

6'2"

Weight:

170 lbs

Crew Tattoo Placement:

N/A

Personality Overview:

Blanc's personality can be described as the ideal killer and lapdog for the world government. He holds the powers in control with extreme reverence and has a devotion that his very life rests upon. Other than that, he holds his superior Chief Kuro in high regard. As a sort of father figure to Blanc, Kuro is what Blanc strives to eventually be.

Morality Alignment:

Lawful Evil

Occupation:

Weapon Specialist/Marksman

Faction:

Cipher Pol 9

History:

A natural born killer, Blanc came into the possession of the world government at an extremely young age and has been groomed as the top candidate to take the reigns of CP9 when the time comes. He specializes in silent and covert killings and assassination. While this previously manifested in his unique style of weapon based rokushiki, his proficiency has skyrocketed after his consumption of the glass devil fruit, which he uses to suffocate and shred the internal organs of his targets. Previously, he acted as a mid range dispatcher by utilizing a thrusting lance in conjunction with his Shigan.

Face Claim:

N/A

Weapon:

N/A

Devil Fruit:  

Hari Hari no Mi:

Item Type: Devil Fruit [Logia]

Name/Identity: Hari Hari no Mi - Glass Glass Fruit

Description: Eaten by Blanc relatively recently, he's still coming into his own with the fruit. A logia class devil fruit, Blanc is able to control glass and transform himself into glass finer than sand.

Appearance: A white and jagged Kiwi

Abilities/Perks/Bonuses: Able to turn into shards of incredibly fine glass, the fruit may seem more akin to a dust fruit at first glance. However, as Blanc creates solid structures, the nature of the fruit becomes more apparent. Aside from the standard Logia abilities and perks, glass made by Blanc can be used to magnify light as a weapon, as well as granting him a natural immunity/resistance to light based attacks such as lasers. However, as a glass human, he suffers a weakness to extreme heat sources, which cause him to slow significantly over time.

Haki:

Advanced

Stats:

S&P - 6

D&E - 5

A&S - 6

P - 6

S&W - 6

---

Outside of the Coliseum - Audience Entrance

Prompt wrote:

@Faust @Phoebe Dabria @Fuentes

After following the crowd from the common grounds, you've been caught up in the madness of watching the big execution. However, neither of you have tickets, your job is simple. Convince Corbin of the Five Hands to free the kid, and get yourself a ticket free of charge for being the brat's hero!  Or Kill/Defeat Corbin and Rob the Kid! Just know, at this point, any violence won't lead to the easiest route.

A small child standing on an empty create heckled tickets to those who didn't pick up tickets from the local shops for the affair that'd be happening this evening.

"Come on! Get'cha tickets! Only 1,000,000 Beli! I only have a few left. No ticket! No show! The security is tighter than the Noble Court's lips on the Queen's as-"

the boy's words were silenced by one of the Hand's who'd been in-charge of guarding the perimeter. The man would simply overpower the boy, lifting him by the collar of his shirt, suspending the boy in mid-air.

"I don't mind you heckling tickets kid. I'm not even going to know where you managed to get them from. Officially stamped and everything..." the Hand stated, raiding the kid's messenger bag of the goodies for his own inspection. "However anyone who insults the Queen will be thrown in that same pit like the rest of those criminals today." the hand concluded. The kid's eyes frozen in fear when he'd realised who exactly it was lifting him into the air, the Hero of Lulusia, the man known as Corbin. At his waist was the blade known as Wado Ichimonji and swordsmanship was on par with the best in the World. Anyone who wanted entry into the venue would've needed a ticket, otherwise, they'd be spending the remainder of the show listening to the screams from outside the arena sized building.

One Of The Five Hands - Corbin :


Haki: Advanced - Buso/Ken
Weapon: Meito
Stats:
S&P - 5
D&E - 5
A&S - 5
P - 5
S&W - 5


---

Along the upper wall's of the coliseum lied the Elite's Watching Box, where the Queen resided, moments before her speech, the other two hands prompted her about the security around the arena.

"So. The snipers are in place?" the Queen of Lulusia inquired.

Snipers :

Perception - 7 | 0 in everything else.

Ammunition: Seastone Rounds (35 Single Bullet Shots) | Remainder Regular Rounds
Heavy Artillery - Projectiles including, but not limited to Sniper Rifles, Large/Heavy Bows, etc.  
Speed 5
Power 7
Range 250m




"Yes ma'am. Exactly thirty-five of the best eyes we've brought in from the Marines G-4 Branch." the Minksman Hand, Whiskers reported. The man would end all of his sentences with either an utterance of 'Meow' or a slight purr, but either way it'd be his trademark. As he'd bow, his quiver carrying various sized arrows and darts would slide slightly off his shoulder.

"They are all equipped and loaded with the Sea Stone rounds delivered to us by the Warlord, Soillin. We've been told by the marines to use our discretion. As a former Rear Admiral myself, I've been delegated to handle all matters albiet the whippersnappers, bastards." the eldest hand, a man by the name of Elms stated.

One Of The Five Hands - Elms :


Haki: Intermediate - Buso/Ken
Weapon: Hasshoken
Stats:
S&P - 8
D&E - 5
A&S - 6
P - 5
S&W - 5


One Of The Five Hands - Whiskers :


Haki: Intermediate - Buso/Ken
Weapon: Electro - Crossbow / Long Bow (Various Arrows)
Stats:
S&P - 6
D&E - 6
A&S - 6
P - 7
S&W - 6


"Brilliant. As such, the seeds have been put into place then?" the Queen asked, flailing around in her throne with excitement, surrounded by her two-thousand plus soldiers that guarded not only her position but the outskirts of the box seated area she'd sit inside. It was the only box seat within the whole coliseum, and it'd have the perfect look onto the centre of the colossal, football sized stadium.

Queen of Lulusia :


Haki: -
Weapon: Electro - Crossbow / Long Bow (Various Arrows)
Stats:
S&P - 2
D&E - 2
A&S - 2
P - 2
S&W - 8


"I wouldn't be standing here had they not my liege." Elms reported. After this point, the Queen's speech commenced.

Exert From the Other Thread wrote:
"Hi! I never got to speak to you two, they wouldn't let me. But, now that I have you all to myself. I want to see what all the buzz is about. Out of everyone you two....don't have any real achievements. Yeah, you are said to be strong and have a decent amount of bounty. But, A LOT of people have a large bounty but never get into the News coo cause they do less than you. So if you are willing you can get some fresh air and exercise if you fight and entertain me. I also will offer you guys a actual meal since I know the crap they feed you isn't the greatest. Also! Those shackles on you guys will be removed....well some."


---

Inside the Arena - Crow and Yuurei's Position

Prompt wrote:

Where you all within the coliseum's battlefield, is totally your decision! You've been placed among much of your Impel Down friends, and a few other faces who haven't made their presence known much. All of your possessions are about to be returned to you, so please place a spoilers of which ones you'll be using!

@Yuurei

@" Juic$y Crow"

One of the Five Hands - Malik :


Haki: - Buso / Ken
Race: Birkan
Devil Fruit: Tori Tori No Mi - Model - Tiger
Stats:
S&P - 4
D&E - 2
A&S - 5
P - 2
S&W - 4


One of the Five Hands - ??? :


Haki: - Advanced - Buso / Ken
Devil Fruit: Phase Phase Paramecia  
Stats:
S&P - 7
D&E - 7
A&S - 5
P - 4
S&W - 7


Removing the shackles from Yuurei and Oceanus, both men would manoeuvre around the field, and remove the chains of the other prisoners present. They had no intention of fighting or obstructing anyone's actions but both men would be fed information from the two hands that freed them, though, three men, including Oceanus and Yuurei would've been told something completely different from the others. Once everyone was free, the Queen would continue with her declaration. The emptied cells sunk back into the ground as the battlefield grounds reformed. A gigantic dome would cover the area, transparent in texture, it was highly durable [6] and meant to keep all foreign parties out. However, it allowed materials to slip in with immense ease, similar to that of a modified Bubble Ship Coat.

Queen wrote:
And it's not just you two that'll be fighting... I'll be a fight to the death among you all. However, for those who don't remember... Let's just tell the crowd the other persons present for execution today!


Sakuma Aquaflore Scarface - Former Bounty 80,000,000:


Description:
Description: Season 2: Sakuma is a very silent, calm, and pensive person. As a hitman, bounty hunter and assassin Sakuma is easily referred to as someone without a heart that lives by killing people for pleasure and money. However, he is actually kind yet never shows to do so. Decisions he makes are always for the best of people. Although he is known to be a violent fighter, Sakuma's actions tend to be for the best. Despite his tendency to be brutal, Sakuma usually stops a fight if his opponent is too injured to fight back, claiming he is not interested in fighting "weaklings who can't fight anymore", and he does not feel obligated to deal a death blow to anyone who cannot fight any longer. This is different when it's put on contract that he should kill one of those guys. Sakuma sometimes contradicts his own logic in fighting. On the one hand, Sakuma wishes to increase his own personal power. On the other hand, he conceals his strength to enjoy a fight for as long as possible. He also has a tendency to say that whenever he kills a person, he prefer to call it "release their souls". Furthermore, Sakuma  is taciturn, sharp-minded and level-headed. Because of the jobs he did all around the world, he is well-known in the underground world, and even more so in the civilized world (however; under the alias of 'Scarface')

On Baltigo he has earned himself a 50,000,000 Million bounty. Just from a job that went bag. He however has been told by the Kingpin Garrlot that he can get that bounty removed if he takes down town two people that also hold the same bounty on the Island. Sakuma has mixed feelings about this but plans to do it. Garrlot also sends this offer to those two individuals. Willing to clear their bounty if they can take out Sakuma.
S&P - E&D - S&A - S&W - P
Attributes: 4 - 3 - 6 - 2 -  3


Issho - Former Bounty - 182,000,000:


Name: Issho.
Bounty: 182,000,000
Description:
Season 2 Untouchable on his own island, he comes out every few months to slaughter the most popular warriors from other countries. The only thing in Issho's mind is to consistently push his swordsmanship and test his mettle against the best the world has to offer until he can finally claim the title of the World's Greatest Swordsman. He has started his journey on Jaya Island. In a similar fashion Shoda had once done.
Last Seen: Jaya Island
Sworn Enemy:N/A
S&P - E&D - S&A - S&W - P
Attributes:5 - 4 - 4 - 4 - 4


Big Baby Jones - Former Bounty -  80,700,000:


Name: Big Baby Jones
Bounty: 80,700,000
Description:

Season 2: His sights have been set on Mock town on Jaya Island. The capture of Shoda has gotten to his ears. Calico Jack is his target. But that doesn't mean he sits idle. Anyone that that he deems a swordsmen will be attacked by him, without any hesitation. He has even employed two others to assist him in taking on Calico Jack.
S&P - E&D - S&A - S&W - P  
Attributes: 6 - 3 - 4 - 2 -  3



King Nep - Former Bounty 55,000,000:



Name: King Nep
Bounty: 55,555,555
Description:
Season 2: He had escaped captivity after being captured. A Fishman that used to follow under Diana no longer does. He has gained a new crew. And at this present time he is resting on Lulusia Kingdom. Preparing to take back his home. Fishman Island.
S&P - E&D - S&A - S&W - P
Attributes: 4-2-2-2-4


Queen's Prompt wrote:
Now for the biggest names among you lot!


White Snake Shoda - Former Bounty - 385+:


Name: 'White Snake' Shoda
Bounty: 385,470,000
Description: An old man nearly 70 years old with very white hair down to his shoulders, and a small white cobra on his left cheek. In his prime he used to caused havoc all throughout the West Blue, and briefly in the Grandline. Many have fallen to his blade and even though he has retired, many still do. As those that have come hunting for him have never been seen again. It is also rumored that he wields an O Wazamono Katana. His location is actually known out of most bounties. He stays within a small hut outside of Mock Town on Jaya Island.
S&P - E&D - S&A - S&W - P
Attributes: 7 7 7 7 7


Queen's Prompt wrote:
Former Monster of the World! Known for his swordsmanship far and wide, White Snake Shoda! With a former bounty racking up to over 385,000,000 Million!


Hunter Jacquelin - Former 134,560,000:


Name: Hunter Jacquelin
Bounty: 134,560, 000
Description:
Season 2: Jacquelin is what the world would refer to as a monster. She's a sadist, egotistical, manipulative woman, who uses her looks and her raw power to command others. She's only truthful to those in her inner circle, treating all other human beings as pawns for her own sick pleasure. Asexual in nature, Jacquelin finds it funny to mess with relationships and family ties, having the tendency of going to peaceful areas and causing a ruckus because she can. She has begun to abduct a large volume of people over the weeks she's been in Mock Town.  Why? She has been paid to do what she loves by Koko the Clown. Mainly civilians.

Before she had arrived to Mock town she had kidnaped Phillipa Sofia's Father. She will send a letter to Sofia once she finds out she is on the Island. Disclosing her location even though this may be a trap. Like everyone she abducts she puts them through hell. Making the entire ordeal a game. A Mansion that previously belonged to a Noble being the stage for the game. She also has others trapped in this Mansion that can be friend.
S&P - E&D - S&A - S&W - P
Attributes: 4 - 4 - 4 - 4 - 5



Queen's Prompt wrote:
Enemy of the Noble Kind... The Huntress Jacquelin... I'm hoping someone tears you apart! And finally... The man whose arrest was hidden from the entire world... Locked away in the depths of Impel Down... The Former Revolutionary General - Juego Patron!


At the Queen's Announcement, the crowd broke into a frenzy. Juego was a Lulusia Native and a Noble who'd disappeared off the face of the Earth since his teenage years. No one truly knew what had happen to him, well, in the public's eye. The other Nobles had been keeping tabs on him and his deals with the Revolutionary Army. The World's Former Greatest Marksman, Juego Patron. Juego's body was covered in wounds, so horrendous that the average man staring at them would spill all their lunch, but the others who'd been sitting next door to his cell, listening to him get tortured everyday knew exactly which each bruise came from. Since Impel Down was opened, he'd been worked on everyday but his pride shone strong, he hadn't snitched a single piece of intelligence about the Revolution. That in itself, made him valuable to be retained.

Juego Patron - Former Bounty - 380,000,000:


S&P - E&D - S&A - S&W - P
Attributes: 3 - 3 - 3 - 3 - 4


---

Crow's Flashback Prompt wrote:

You spend your first post expanding on this prompt in Flashback format and setting up your current position. NO ATTEMPT TO MAKE AN ATTACK OR WHAT IF STATEMENTS CAN BE USED IN YOUR WORDING WHAT SO EVER FOR THE FIRST ROUND. YOUR SHACKLES ARE BEING REMOVED AND YOUR LEG IS BEING ATTACHED.

If you break this rule, I'll have one of the snipers take an actual attempt on your life.



In your cell you will be contacted by a Fishman from your crew. Disguised as a guard. This portion will be a Flashback in our posts. He will explain to you that he has been getting you some help and even saved Beki. He isn't alone and they are coming to the execution in force. However many think you are weak from your capture. So to prove that you aren't and to permanently gain the rewards that come with them you are tasked with killing one of four people. Those people will be given in the topic.

Clearing her throat before she spoke, the message was conveyed from Crow's conspirator's dial.

Alexandria "Famine" Knox:

"If your hearing this Mr.Oceanus... It's truly because the Army is out of options. If you want your freedom, we've secured your men, your ship and even a new leg for your own. However, it'll all come with a price. They are four people that absolutely must not leave your execution site alive and one man, you must save. His name is Jeugo Patron. He's one of our finest men, and generals. Save him and you'll have a comfortable position waiting for you within the Army."


Crow's Targets:
White Snake Shoda

Big Baby Jones

King Nep

Issho


Yuurei's Flashback Prompt wrote:

You spend your first post expanding on this prompt in Flashback format and setting up your current position. NO ATTEMPT TO MAKE AN ATTACK OR WHAT IF STATEMENTS CAN BE USED IN YOUR WORDING WHAT SO EVER FOR THE FIRST ROUND. YOUR SHACKLES ARE BEING REMOVED AND YOUR WEAPONS HAVE BEEN BROUGHT TO YOU BY THE PHASE PHASE USER UPON BEING FREED.

If you break this rule, I'll have one of the snipers take an actual attempt on your life. Oden Beckham - Vice Admiral:

You look like shit, Yuurei. This is the famed swordsman that gave Koko hell... I wouldn't believe it the way you look now. Whatever, that's not the point of this visit. I'm the Admiral in-charge of assembling the Seven Warlord's of the Sea. Letting you die in this execution would be a waste. I'd had plans of letting you all die in that hole... but prove me wrong that your Will Supersedes A Dog's Death. Anyone one of those kills will gain you status. From their, use your discretion. I'll have someone in the crowd to confirm your status almost immediately." At this point, Beckham tosses Yuurei a brown folder containing the names and face of his targets from highest to lowest priority. "The more you kill... The higher your joining bonus is. I'll be fine if you manage to just get one of them to be honest." Beckham stated, as he'd wave walking away from the man's cell. "Oh. No matter what... One man must never leave that place alive... He's your number one target. Top of the list." Beckham concluded.


Yuu's Targets:

White Snake Shoda | Juego Patron

An Imposter Among The Five Hands To The Queen

Oceanus

Huntress Jacquelin


OCC:

Remember tag

@Kaito

for this topic. I'll be NPCing this madhouse. Everyone has their particular targets and objectives for the thread, except for Kenji and Pheobie, however you choose to be apart of this, that's your choice.