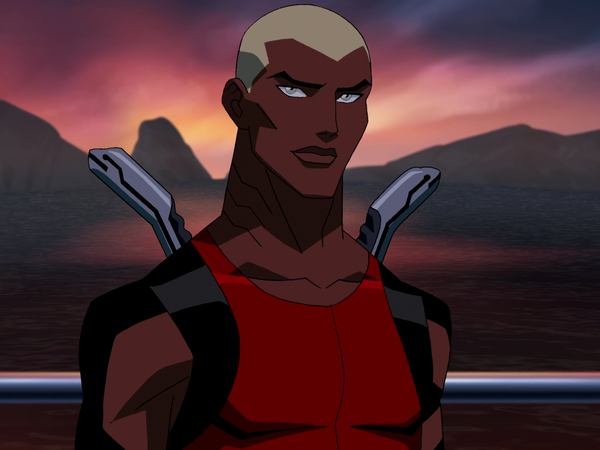 Knock Knock Knock,
Marcellus's knuckles would rap sharply against the wooden door through which he was hoping to gain entry. "Is anyone inside?" Marcellus would only have to wait a moment at the door of Lulusia's most successful Merchants guild before it would open and a tall man would step out onto the stoop next to Marcellus, closing the door behind him. "What do you want kid? We're pretty busy." The man who now addressed Marcellus was incredibly tall, standing at about 9 feet tall, towering over the young boy and drooping his long blue dreadlocks down in front of Marcellus's face and obscuring his view. Pushing aside the dreads that nearly touched his face, he'd make direct eye contact with the taller man,"Well sir, I'm interested in joining your guild. I've developed a bit of a fascination with the sale of goods and believe that your group would be helpful in gaining knowledge and connections for it."
While his words were mostly true, they didn't tell the full story. Marcellus had more than an interest in selling goods, he had an obligation to help his parents grow their weapon's dealing business during his journey as a member of the revolution. Joining the Merchant's guild would only serve to help Marcellus by giving him access to more legitimate clientele as well as possibly a few tips to help him when he takes over.  "Well boy, unfortunately for you we have an age requirement to begin initiating into our ranks." Well, there went Marcellus's plans. His age was the one obstacle he had the most difficulty overcoming as his only real option was to wait for it to naturally solve itself as he got older.
Defeated, Marcellus would drop his head, and he'd be preparing to turn and exit when the tall gatekeeper would continue to ramble,"You shouldn't feel bad though, we aren't really accepting anyone right now. Since those spies for the Queen were revealed all of the guilds have been hesitant to recruit anyone new."  This information would stop Marcellus in the middle of his turn, causing a light bulb to go off in his head. Maybe this spies thing could be exactly what he needed to get himself in with the merchants and the other guilds of Lulusia,"What do you mean spies for the queen? What happened?" Marcellus was now pumped up again, gaining back whatever positivity he had lost upon being rejected; this was his shot. "Well," the gatekeeper would hesitate to respond, only sighing and deciding to give up the information upon seeing the gleeful look on Marcellus's face, "Not that it matters to you, but recently it was brought to light that on orders from the Queen some royal guards working as spies infiltrated some of the guilds around here and a member of one of them was killed. Some of the men were caught but we don't really know if there will be other so we can't risk taking any new members for a while." Upon finishing his anecdote the gatekeeper would be surprised to see Marcellus now beaming even more brightly.
The situation made sense to Marcellus, but he wasn't about to simply allow it to stop him from getting what he wanted. "Easy solution then," Marcellus would say while fishing through his pockets to eventually find and pull out a flag with the symbol of the revolutionary army on it, "I, Marcellus Wesson of the Revolutionary Army, vow to find and take down every spy that was compromised, in order to send a message to anyone that wants to follow in their footsteps." Marcellus would then take his flag and drop it onto the doorstep of the Guild Hall. "Anyone who steps over this flag will be considered disrespectful to the Revolutionary army and will be dealt with swiftly by my own hand. Let your guild know that no one will be bothering you while I'm handling this business." The Gatekeeper would of course be shocked by Marcellus's words and actions, but he'd develop a faith in the boy with just a look into his eyes and at the fire within them. In that moment he'd decide to trust Marcellus despite his young age, "Fine then, I,Wataru Greyold of the Lulusia Merchants Guild, trust you Marcellus to handle this task for me with a promise of membership to the guild should you succeed." Then, taking care to avoid stepping directly over the flag marcellus had lain at his doorstep, he'd open the door and allow Marcellus to enter the guild hall so that he could start his mission.
Doriki:


+5 to endurance from pugilist occupation
+5 to strength in arms from long-arm race
Equipment:


Equipment Name: Eva and Ava
Equipment Description: Eva and Ava are two snub nose double action revolvers both capable of shooting 6 shots a range of 50 meters before needing to be reloaded. Eva and Ava are kept on the loops of Marcellus's belt and are small enough to be completely concealed by his shirt hanging over them.
Equipment Grade: Common
Skills :



@Ganon